Buy the Book here!
A participative event where the audience performs for the camera at the K0G shop-window.
This event took place on Sunday 23rd May 2010
at Keep Zero Gravity, 20 Hanbury Street, London E1 6QR
from 6pm till 8pm.
Visit Keep Zero Gravity website here
Photo Gallery:
Credits
Idea, realisation & design: Pau Ros & Pablo Goikoetxea
Production & Project Coordinator: Rania Bellou
Photos: Pablo Goikoetxea & Pau Ros
Video: Pablo Robertson de Unamuno
Make up: Lefteris
Event organised by Babis Konstantopoulos at K0G with Katia Makusina and Kelly Huang
Models: Juan De Dios Miro, Jelly, Manel Trias, Julien Aschner, Anansie El-Shig, Ciro Supino, Ellen Freed, Cristina, Gaelle Guillaume, Ruben Sarralde... and the participating public.
Shot at Keep Zero Gravity, London 2010

© copyright by Completely Naked, 2010
the promo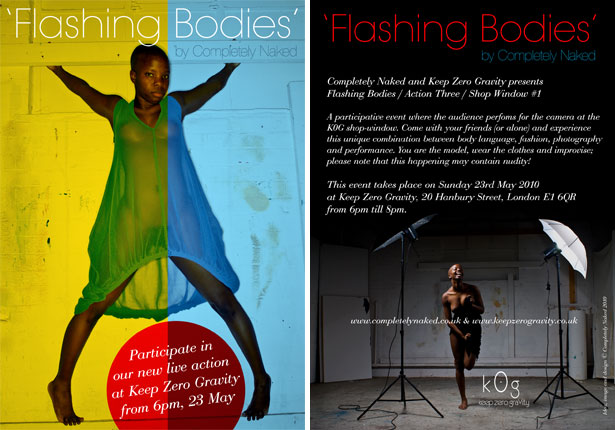 Download the leaflet PDF cover and back here
Model for the leaflet: Anansie [link]
the Book
Featrure in Rocket Magazine